Survivors are the heart and soul of our Race! Come celebrate with us this year on Saturday, May 7 at the 19th Annual Komen Central Virginia Race for Cure®.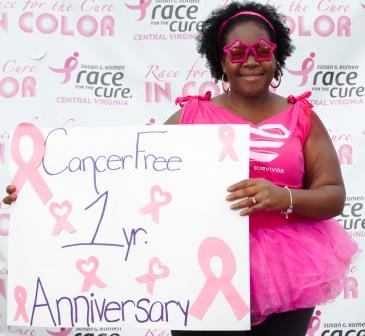 Discounted Registration
As a breast cancer survivor, enjoy a $5 registration discount (use discount code SURVIVOR when registering) along with many other special things we've planned especially to celebrate you!
VIP Race Parking
We reserve special parking spots on Race day for our breast cancer survivors in the Federal Reserve Parking Deck. Don't forget to pick up your special hot pink parking pass at Packet Pickup. On Race day, make sure to display your hot pink parking permit and park at the Federal Reserve Parking Deck located at 701 East Byrd Street, Richmond, VA 23219.
VIP Survivor Tent
Join us for an early breakfast at 7:00 AM in the VIP Survivor Tent on Brown's Island. Spend time with other survivors and be treated like the VIP you are.
Survivor Parade & Photo
We will celebrate your collective years of survivorship with a parade and group photo! Assembly for the Survivor Parade and Photo at the Survivor Tent on Brown's Island at 8:00 AM.