Volunteers play a vital role in the Susan G. Komen Central Virginia Race for the Cure®. Their passion and commitment is what makes our Race successful. Join us today in our fight breast cancer.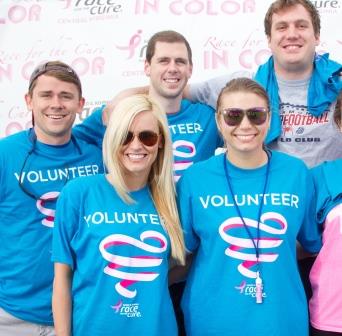 Why volunteer?
It's fun. It's rewarding. And you'll meet some truly incredible people when you volunteer for the Komen Central Virginia Race for the Cure. The success of the Race depends heavily on the support we receive from more than three hundred volunteers in the months leading up to the Race and on Race Day.
Who can volunteer?
Fun-loving, enthusiastic, hard-working, and reliable individuals who are willing to contribute to the success of the Komen Central Virginia Race.
When can you volunteer?
There are two ways you can volunteer for the Race:
We are always looking for volunteers to help with pre-Race planning, organization and marketing. If you are interested in helping us pre-Race, please fill out this volunteer application.
It takes hundreds on Race day to provide the best experience to our participants. If you are interested in volunteering on Race day, please review the Race day volunteer opportunities listed below and sign up for something that interestes you.
Race Day Volunteer Opportunities
Race for the Cure

I AM KOMEN

Race for the Cure In Color

Volunteers play a vital role in the Susan G. Komen Central Virginia Race for the Cure®. Their passion and commitment is what makes our Race successful. Race volunteer roles include:


Packet Pickup
Coffee Tent
Community Resource Area
Course Marshals
Floaters
Gift Shop
Information Tent
Island Greeters
Kids' Activities
Parking/Steet Greeters
any many more!

I AM KOMEN volunteers encourage Race participants and help them identify actions they can take that may reduce their risk of breast cancer. I AM KOMEN volunteer roles include:


Race for the Cure In Color volunteers join the Komen Central Virginia Teen Advisory Board as they color Race participants in bold colors in support of breast cancer awareness. In Color volunteer roles include:


Greeters
Questioners
Color Throwers
Photographer Assistants
Sign Holders and Race "Advertisers"
Water & Clean-up